Inside The 2022 Comeback Of Y2K's Favorite It-Bag
Over the past two years, fashion TikTok has become a one-way ticket to the Y2K era. From micro-mini skirts and tube tops to low-rise jeans and Bratz-approved platform shoes, the app — hand-in-hand with the secondhand market boom — has brought back many nostalgic trends. Among them is one of the era's signature designer bags: the Fendi Baguette. Currently, the hashtag #fendibaguette has over 2.4 million views on TikTok. And the views are translating to retail demand. According to Rebag, the Fendi Baguette bag was one of 2021's most searched items on the resale site. Meanwhile, on the luxury consignment site The RealReal, searches for the bag have grown by 63% from 2020 and sales rose by 40%. "The Fendi Baguette has had a significant resurgence over the past several years, as demand for iconic '90s fashion surges," says Kelly McSweeney, merchandise manager of womenswear at The RealReal.  While the comeback initially started when Fendi re-issued the Baguette in 2019, its It-bag status in 2021 was cemented by an intergenerational phenomenon that saw Gen X unearthing their vintage style and selling them, to the millennials ready to take them off their hands. "Gen X was the generation that originally purchased Baguettes back in their heyday," says McSweeney. "As the original Gen X owners see them rising in resale value, it's motivating many to sell theirs forward, and millennials are jumping on the chance to finally live out their Baguette dreams." According to The RealReal, demand for vintage Fendi Baguette bags has grown six times faster than the new versions of the bag from the brand, with the average resale value reaching four times more than in 2017. For millennial influencer Caroline Vazzana, this latest wave of popularity prompted her to expand her Fendi Baguette collection. While she got her first one six years ago for $200 at Beacon's Closet, today, she says, getting her hands on both vintage and re-edition Baguette bags is much harder — not to mention expensive.  "I honestly wish I got more [back then] because now they go for so much money," Vazzana, who currently has five, says. Like many other millennials, Vazzana first got acquainted with the Fendi Baguette bag when she watched Sex and the City's Carrie Bradshaw parade it around New York City in the late '90s and early '00s. Frequently described as one of the original influencers, Bradshaw's predilection for the style — a phenomenon credited to the show's costume designer Patricia Field — made it a must-have back in the day.  First launched in 1997, the Fendi Baguette bag was conceptualized by Silvia Venturini Fendi, who was inspired by French women and wanted to create a purse that could be held like a loaf of bread under the arms. But it is the bag's versatile rectangular shape, recognizable double F-logo clasp, and a wide variety of colors, textures, and materials that cemented its popularity as one of Y2K's most iconic handbags.  Fashion commentator and jewelry designer Carla Rockmore remembers the bag at the height of its popularity. Back in the late '90s and early '00s, she says that "everybody under the sun tried to knock [Fendi Baguette bags] off." She adds, "I remember thinking at the time, 'Gee, this bag is becoming a canvas, almost a moniker of your style.'" And though the Baguette's It-status waned for a few years — as handbags like the Louis Vuitton Pochette, Balenciaga City, Celine Luggage, and Saint Laurent Sac Du Jour skyrocketed in popularity — Fendi re-issuance of the style in 2019 inspired a second coming. When re-introducing the purple sequin version, which was first launched in the house's fall 1999 collection and popularized by Sex And The City, Fendi tapped no other than Sarah Jessica Parker, who played Bradshaw, for the ad campaign. In the commercial, Parker is followed by a group of younger girls who are lusting after her bag, screaming, "Ma'am, I need that bag!" She then turns around, replying: "Oh, this isn't a bag. It's a Baguette!"  The interaction alludes to the first time the purple sequin Baguette bag made an appearance on Sex And The City, in a scene from Season 3, when Bradshaw gets robbed and corrects the mugger, saying: "It's a Baguette." Three years after the commercial aired, photos of Parker wearing the same bag in the show's reboot And Just Like That… made rounds on the internet, prompting Fendi to re-launch it once again. The current iteration of the style is selling for a whopping $4,300.  NEW YORK, NEW YORK – JULY 17: Sarah Jessica Parker seen on the set of "And Just Like That…" the follow up series to "Sex and the City" at Webster Hall on July 17, 2021 in New York City. (Photo by James Devaney/GC Images) But fans aren't deterred. According to global fashion search platform Lyst, searches for the bag have jumped by 47% since the show premiered in December 2021. The bag also climbed to Rebag's top five most-selling styles after the show's premiere, according to the
Over the past two years, fashion TikTok has become a one-way ticket to the Y2K era. From micro-mini skirts and tube tops to low-rise jeans and Bratz-approved platform shoes, the app — hand-in-hand with the secondhand market boom — has brought back many nostalgic trends. Among them is one of the era's signature designer bags: the Fendi Baguette.
Currently, the hashtag #fendibaguette has over 2.4 million views on TikTok. And the views are translating to retail demand. According to Rebag, the Fendi Baguette bag was one of 2021's most searched items on the resale site. Meanwhile, on the luxury consignment site The RealReal, searches for the bag have grown by 63% from 2020 and sales rose by 40%. "The Fendi Baguette has had a significant resurgence over the past several years, as demand for iconic '90s fashion surges," says Kelly McSweeney, merchandise manager of womenswear at The RealReal. 
While the comeback initially started when Fendi re-issued the Baguette in 2019, its It-bag status in 2021 was cemented by an intergenerational phenomenon that saw Gen X unearthing their vintage style and selling them, to the millennials ready to take them off their hands. "Gen X was the generation that originally purchased Baguettes back in their heyday," says McSweeney. "As the original Gen X owners see them rising in resale value, it's motivating many to sell theirs forward, and millennials are jumping on the chance to finally live out their Baguette dreams." According to The RealReal, demand for vintage Fendi Baguette bags has grown six times faster than the new versions of the bag from the brand, with the average resale value reaching four times more than in 2017.
For millennial influencer Caroline Vazzana, this latest wave of popularity prompted her to expand her Fendi Baguette collection. While she got her first one six years ago for $200 at Beacon's Closet, today, she says, getting her hands on both vintage and re-edition Baguette bags is much harder — not to mention expensive.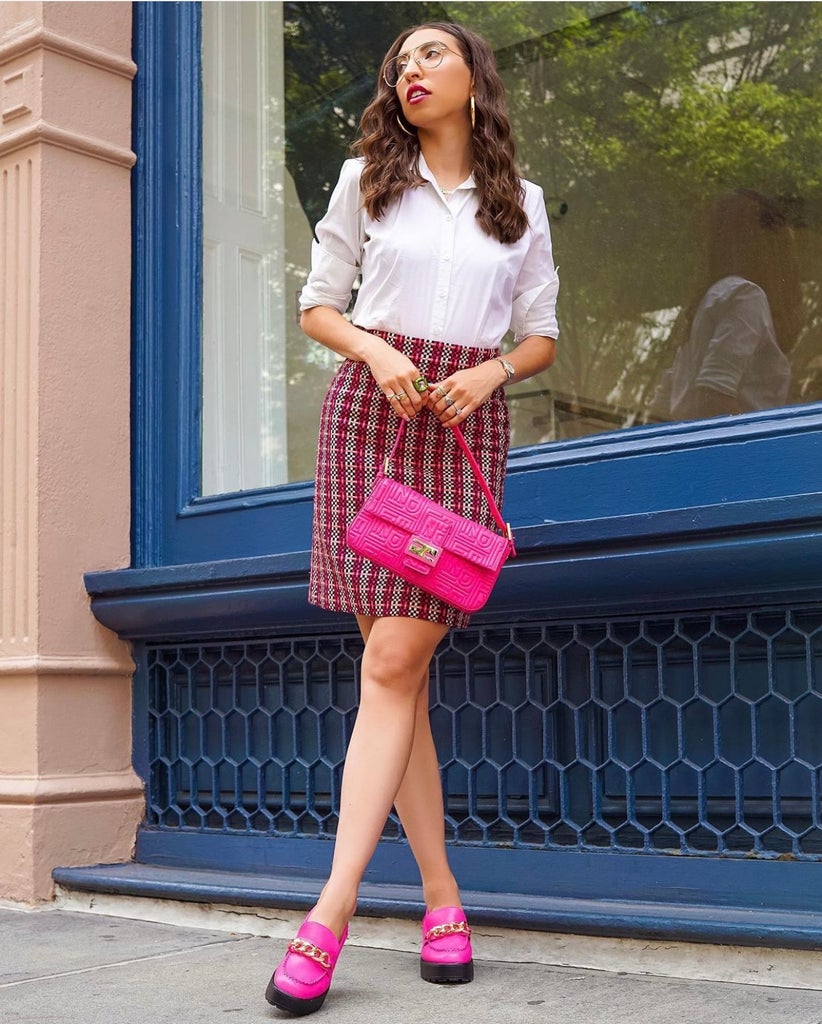 "I honestly wish I got more [back then] because now they go for so much money," Vazzana, who currently has five, says.
Like many other millennials, Vazzana first got acquainted with the Fendi Baguette bag when she watched Sex and the City's Carrie Bradshaw parade it around New York City in the late '90s and early '00s. Frequently described as one of the original influencers, Bradshaw's predilection for the style — a phenomenon credited to the show's costume designer Patricia Field — made it a must-have back in the day. 
First launched in 1997, the Fendi Baguette bag was conceptualized by Silvia Venturini Fendi, who was inspired by French women and wanted to create a purse that could be held like a loaf of bread under the arms. But it is the bag's versatile rectangular shape, recognizable double F-logo clasp, and a wide variety of colors, textures, and materials that cemented its popularity as one of Y2K's most iconic handbags. 
Fashion commentator and jewelry designer Carla Rockmore remembers the bag at the height of its popularity. Back in the late '90s and early '00s, she says that "everybody under the sun tried to knock [Fendi Baguette bags] off." She adds, "I remember thinking at the time, 'Gee, this bag is becoming a canvas, almost a moniker of your style.'"
And though the Baguette's It-status waned for a few years — as handbags like the Louis Vuitton Pochette, Balenciaga City, Celine Luggage, and Saint Laurent Sac Du Jour skyrocketed in popularity — Fendi re-issuance of the style in 2019 inspired a second coming. When re-introducing the purple sequin version, which was first launched in the house's fall 1999 collection and popularized by Sex And The City, Fendi tapped no other than Sarah Jessica Parker, who played Bradshaw, for the ad campaign. In the commercial, Parker is followed by a group of younger girls who are lusting after her bag, screaming, "Ma'am, I need that bag!" She then turns around, replying: "Oh, this isn't a bag. It's a Baguette!" 
The interaction alludes to the first time the purple sequin Baguette bag made an appearance on Sex And The City, in a scene from Season 3, when Bradshaw gets robbed and corrects the mugger, saying: "It's a Baguette." Three years after the commercial aired, photos of Parker wearing the same bag in the show's reboot And Just Like That… made rounds on the internet, prompting Fendi to re-launch it once again. The current iteration of the style is selling for a whopping $4,300.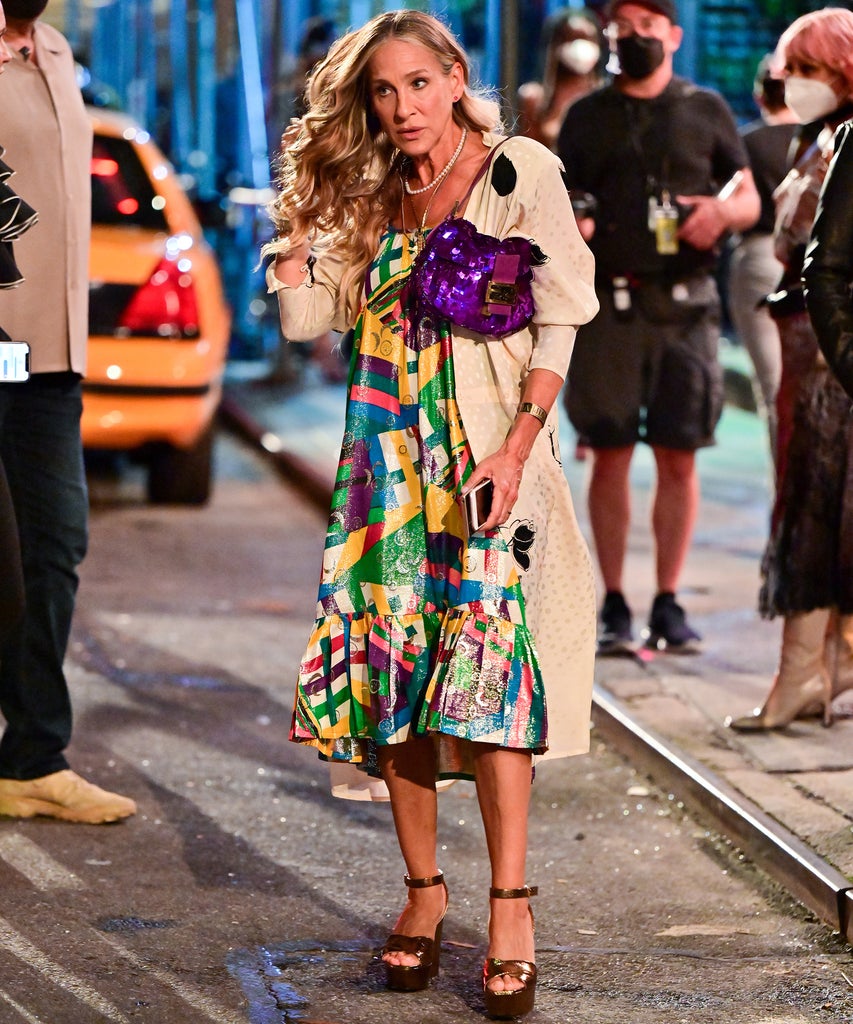 But fans aren't deterred. According to global fashion search platform Lyst, searches for the bag have jumped by 47% since the show premiered in December 2021. The bag also climbed to Rebag's top five most-selling styles after the show's premiere, according to the site's CEO Charles Gorra. 
Though popular handbags of eras past have a tendency to come back in style (see: Balenciaga's City bag or Lady Dior bag), the Fendi Baguette is currently defining Y2K's return, both in fashion and pop culture. Will it last despite today's short-lived, TikTok-fueled trend cycle? Rockmore thinks so. "When something is functional besides being fashionable, it has longevity," she says. "[The Baguette] is never going out of style."
Like what you see? How about some more R29 goodness, right here?
The Fendi Baguette Is Back On The 'SATC' Reboot
Why Some Millennials Are Embracing The Y2K Trends