Chanel's Latest Show Featured Wedding-Worthy Dresses & Horse Girl Fashion
'Tis the season to observe pretty dresses, as Haute Couture Week continues in Paris. And Chanel's latest runway show delivered just that. On Tuesday, the French house unveiled its spring 2022 couture collection, filled with juxtapositions between structured and flowy garments.  "These geometric shapes made me want contrasts, a great lightness and a lot of freshness," Chanel's creative director Virginie Viard said in the collection's notes. The designer explained she wanted the dresses to look as if they were "floating."  Socialite Charlotte Casiraghi rode on horseback to open the show. The horse girl moment was conceptualized by French artist Xavier Veilhan, who was in charge of the show's decor. "His artistic universe is full of horses and Charlotte is a skilled rider," said Viard. It all set a precedent for what the collection later proposed: a contrast between the unabashedly fanciful and utilitarian.  While the show opened with a series of structured tweed jackets, a hallmark of the label, Viard deconstructed the seriousness of these garments by pairing pocketed jackets with light maxi skirts that appeared to be levitating on the runway. Then, the collection delved into a series of blazer dresses with frilly details and, later, a slew of skirt suits (with much longer hemlines than the house's spring 2022 ready-to-wear lineup) and wide-leg pantsuits. For the show's finale, Viard showed ethereal dresses that would make for stunning wedding looks for any non-traditional bride. Take, for example, a black bubble dress with a one-shoulder bow-tie sleeve or a white slip dress with a ruffled peplum and twee-approved bow in the front. In true couture tradition, the showcase wrapped up with a bridal dress, a simple slip adorned with a delicate, beaded layer of fabric over top.  Viard's lineup offered women the chance to be all things at the same time: a practical horse girl by day, an elegant party attendee by night.  Watch Chanel's spring 2022 couture show below. Like what you see? How about some more R29 goodness, right here?The '90s Skirt Suit Is Shorter Than EverChanel's Couture Show Starred Margaret QualleyChanel's Show Featured Garter Bags & Fishnets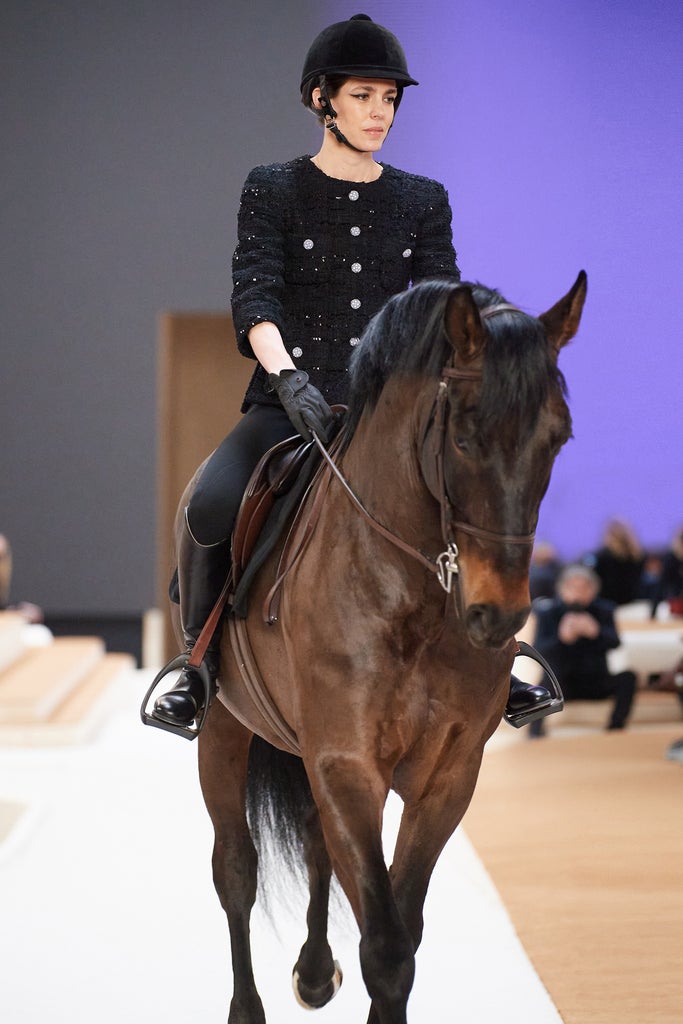 'Tis the season to observe pretty dresses, as Haute Couture Week continues in Paris. And Chanel's latest runway show delivered just that. On Tuesday, the French house unveiled its spring 2022 couture collection, filled with juxtapositions between structured and flowy garments. 
"These geometric shapes made me want contrasts, a great lightness and a lot of freshness," Chanel's creative director Virginie Viard said in the collection's notes. The designer explained she wanted the dresses to look as if they were "floating." 
Socialite Charlotte Casiraghi rode on horseback to open the show. The horse girl moment was conceptualized by French artist Xavier Veilhan, who was in charge of the show's decor. "His artistic universe is full of horses and Charlotte is a skilled rider," said Viard. It all set a precedent for what the collection later proposed: a contrast between the unabashedly fanciful and utilitarian.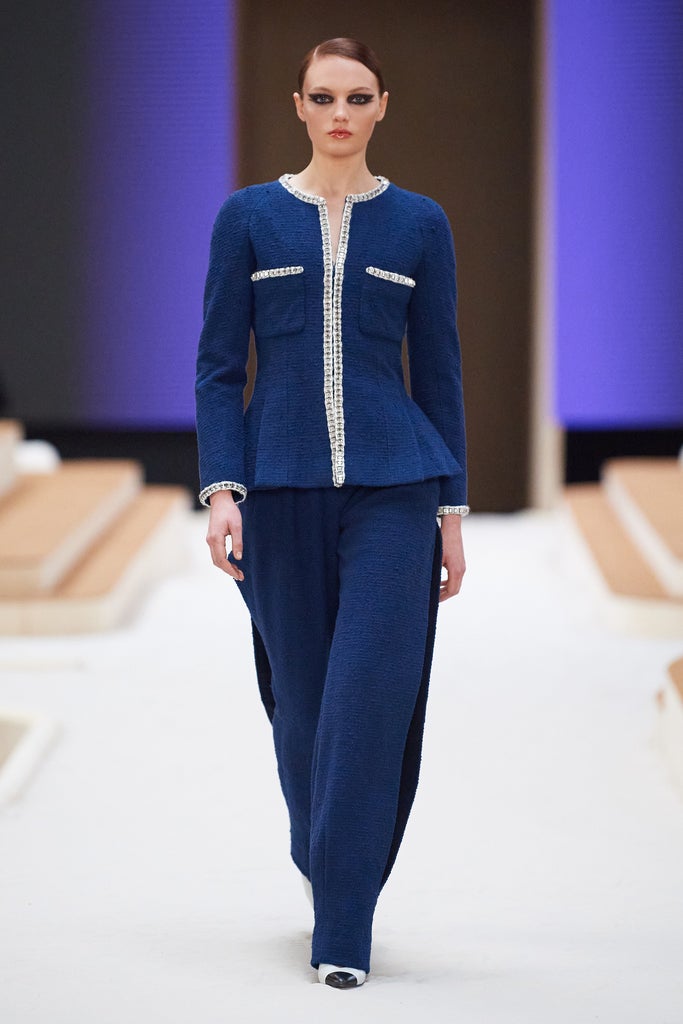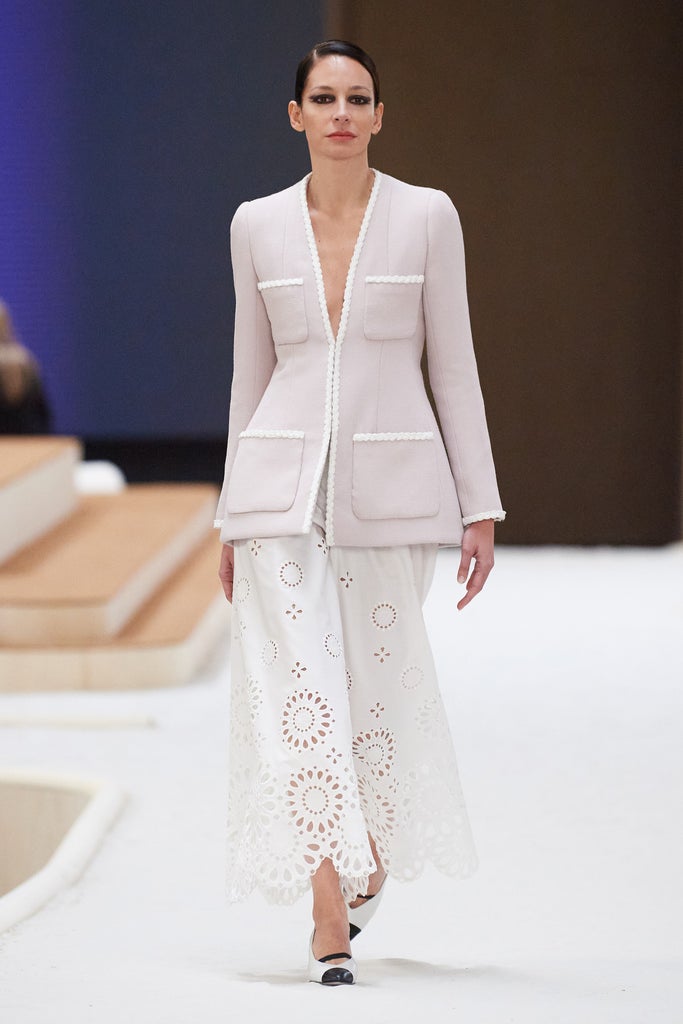 While the show opened with a series of structured tweed jackets, a hallmark of the label, Viard deconstructed the seriousness of these garments by pairing pocketed jackets with light maxi skirts that appeared to be levitating on the runway. Then, the collection delved into a series of blazer dresses with frilly details and, later, a slew of skirt suits (with much longer hemlines than the house's spring 2022 ready-to-wear lineup) and wide-leg pantsuits.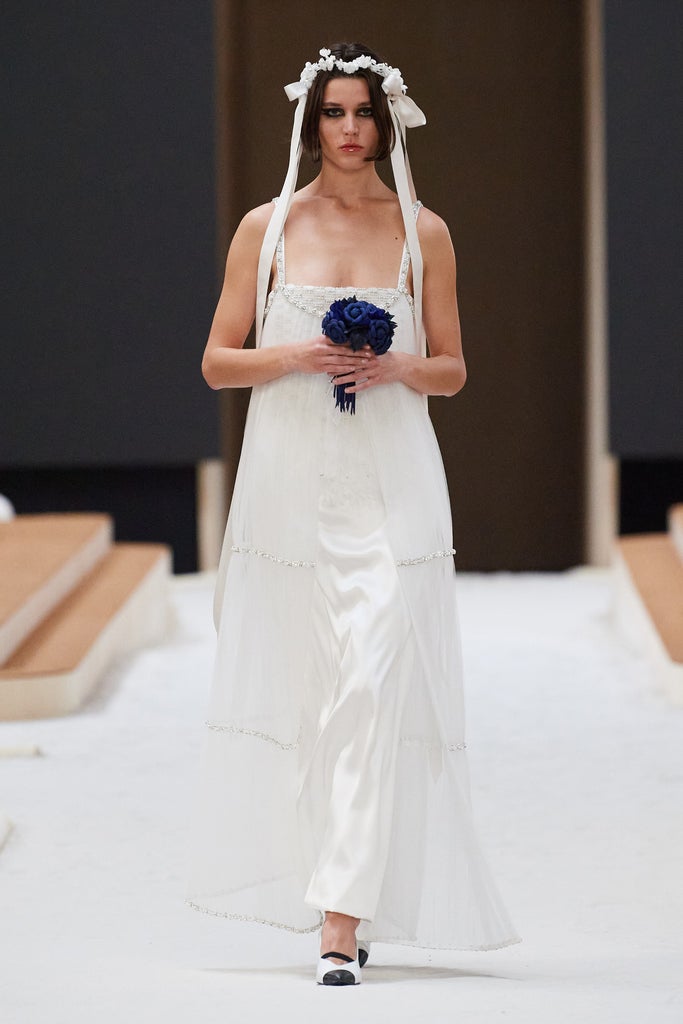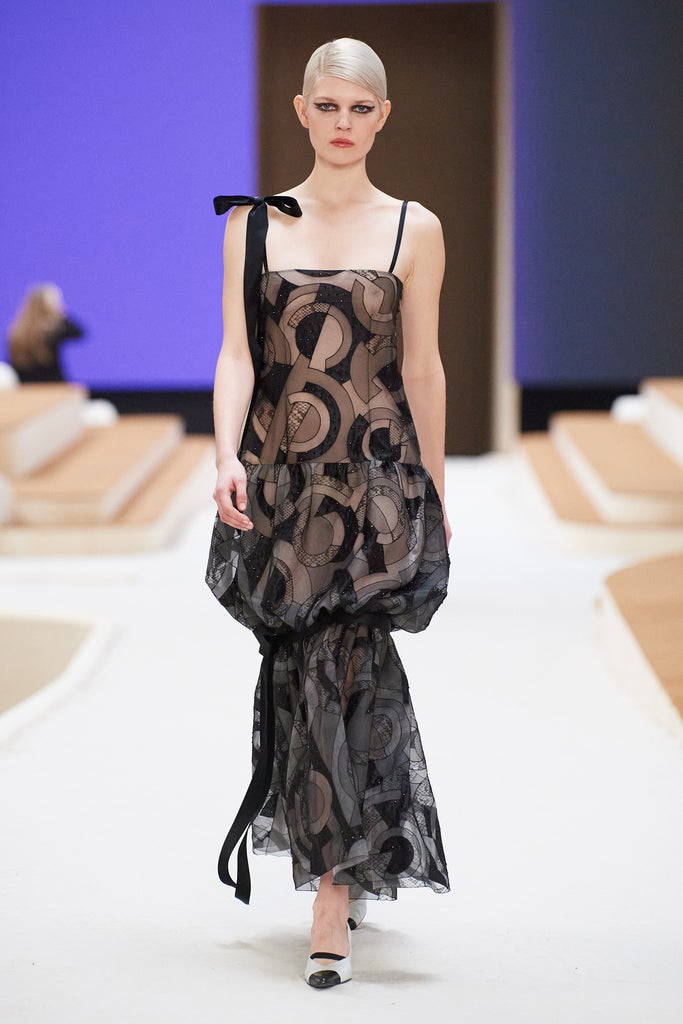 For the show's finale, Viard showed ethereal dresses that would make for stunning wedding looks for any non-traditional bride. Take, for example, a black bubble dress with a one-shoulder bow-tie sleeve or a white slip dress with a ruffled peplum and twee-approved bow in the front. In true couture tradition, the showcase wrapped up with a bridal dress, a simple slip adorned with a delicate, beaded layer of fabric over top. 
Viard's lineup offered women the chance to be all things at the same time: a practical horse girl by day, an elegant party attendee by night. 
Watch Chanel's spring 2022 couture show below.
Like what you see? How about some more R29 goodness, right here?
The '90s Skirt Suit Is Shorter Than Ever
Chanel's Couture Show Starred Margaret Qualley